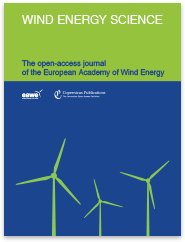 Editor-in-chief: Carlo L. Bottasso
Chief editors: Sandrine Aubrun, Nicolaos A. Cutululis, Paul Fleming, Athanasios Kolios, Jakob Mann, Joachim Peinke, Gerard J.W. van Bussel & Paul Veers
eISSN: WES
2366-7451
, WESD
2366-7621
Wind Energy Science is an international scientific journal dedicated to the publication and public discussion of studies that take an interdisciplinary perspective of fundamental or pioneering research in wind energy.
Get engaged in the public peer review!
Follow the discussions on newly posted manuscripts and take part by commenting on WES preprints! Wind Energy Science has an innovative two-stage publication process involving the scientific discussion forum Wind Energy Science Discussions (WESD), which has been designed to maximize the effectiveness and transparency of scientific quality assurance and foster scientific discourse.








Notice on current restrictions
To show our support for Ukraine and in accordance with current European sanctions, we have introduced a range of measures relevant to our open-access publications process.
All fees for papers from authors (first, corresponding, or contact authors) affiliated to Ukrainian institutions are automatically waived, regardless of if these papers are co-authored by scientists affiliated to Russian and/or Belarusian institutions. The only exception to the waiver for Ukrainian authors will be if the corresponding or contact authors are from a Russian and/or Belarusian institution, in that case the APCs are not waived.
Due to restrictions for authors from Russian and Belarusian institutions that are necessary to comply with European sanctions, we recommend any authors from institutions in these countries to contact us on editorial@copernicus.org for more information.