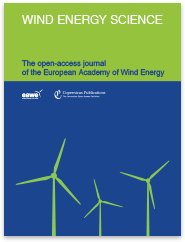 Editor-in-chief: Carlo L. Bottasso
Chief editors: Sandrine Aubrun, Nicolaos A. Cutululis, Paul Fleming, Athanasios Kolios, Jakob Mann, Joachim Peinke, Gerard J.W. van Bussel & Paul Veers
Wind Energy Science is an international scientific journal dedicated to the publication and public discussion of studies that take an interdisciplinary perspective of fundamental or pioneering research in wind energy.




News
21 Dec 2021
Season's greetings from Copernicus and review deadline extensions
At the end of the year, we would like to express our deep gratitude for our collaboration with all editors, referees, and authors in 2021. Please take a look at our Christmas card. Since our virtual office is closed from 23 Dec to 2 Jan and a significant number of editors and referees pause their work over the Christmas days, we extended all journal review deadlines: deadlines expiring shortly before or over Christmas have been extended to the week after and deadlines expiring after Christmas or over New Year have been extended to after New Year's Day. Season's greetings and a happy New Year. Please stay healthy.


29 Oct 2020
Institutional agreement with ETH Zurich now for corresponding authors
As of 1 November 2020 the direct settlement of article processing charges (APCs) between the ETH Zurich and Copernicus Publications will be valid for corresponding authors.


30 Jun 2020
Update of journal metrics
The journal metrics were updated and the current numbers are available from the metrics box on the left-hand side.